My 40s
---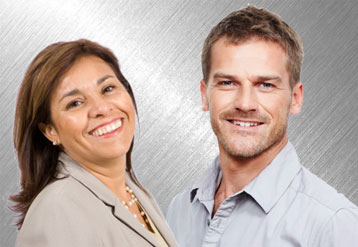 In your forties, you start to see the damage caused to your skin by all the sunbathing you did in your teens and 20s: uneven skin color, brown spots, coarse skin, large pores, and deepening lines. The good news is that we have many different ways to improve your skin and help you maintain your rejuvenated skin.
Skin Color Correction, Repair, and Rejuvenation
Our SkinMedica peels alone or in combination with our FotoFacial and fractional lasers (Fraxel and DOT Therapy) can significantly bring evenness to your skin color by reducing the brown spots and stimulating the production of collagen to soften and reduce facial wrinkles, reduce pore sizes, improve acne and acne scars, and tighten the skin. Your skin will appear illuminated after your treatment(s). We can also treat melasma with skin peels and/or lasers to get results.
Skin Tightening and Body Reshaping
As you pass through your forties and into your fifties, you may begin to notice that the skin on your face, chin, and jawline is starting to sag. Wrinkles and fine lines around your mouth, eyes, and forehead become more apparent. And you may also start to notice that the skin on your arms, tummy, buttocks, and above the knees is loose as well. Thermage®, which uses radiofrequency, can tighten the loose skin along the jawline and chin to provide a better definition of the angle of your jaw. Thermage can tighten laxity of your upper face and eyes as well, and give your skin an overall smoother, softer, and tighter appearance.
For the arms, tummy, love handles, buttocks, thighs, and above the knees, both VASER Shape and Thermage for Body can tighten and reduce fat. Thermage requires only one treatment and there's no downtime. VASER® Shape includes a series of five treatments spaced one week apart and there's no downtime. Following the final one, the average patient will have a reduction of two inches. VASER Shape is a very comfortable procedure and feels like a hot stone massage.
Cellulite
If your mother has cellulite, then chances are, you will, too. In fact, 90% of us have cellulite in varying degrees. Though there isn't a cure for cellulite, we can reduce its appearance using Thermage or VASER Shape. Both treatments are comfortable and do not require downtime.
Facial or Leg Veins
Facial veins, especially around the nose, are caused by sun damage, rubbing or blowing your nose because of allergies or colds, thinning of the skin, or Rosacea. We can easily eliminate these veins by treating them with our Cutera Coolglide Yag laser.
Leg veins, whether they are spider veins or the deeper blue veins, can be treated with the Yag laser or with sclerotherapy. Either way, it takes the body five to six weeks to reabsorb the veins and it typically takes four to six treatments six weeks apart to achieve optimal results. Your provider will help determine which treatment method is best for you. To have great legs in the summer, start your skin care regimen in the fall or winter.
Hair Removal
Laser hair removal is a great way to get rid of unwanted hair, whether it's on the face, armpits, abdomen, bikini area, or legs. Laser hair removal requires a series of treatments four to six weeks apart, and generally four to six treatments are needed. The best results occur when the hair is dark and coarse.
If laser treatments are out of your budget and/or if you have blonde, white/gray, or red hair, a great alternative is electrolysis. If you have dark hair, you can also have electrolysis if you are concerned about hyperpigmentation of your skin. Just like lasers, electrolysis is a series of treatments, typically four to six weeks apart. Additionally, we offer very affordable wax and threading treatments to remove facial hair.
Wrinkles
Our wrinkle reducers, BOTOX® and Dysport® do an excellent job in softening lines and creases on the forehead, crow's feet, and furrows between the brows. We can even smooth the appearance of the chin using wrinkle reducers, which softens the appearance of acne scars and other irregularities of the chin. We can also reduce the downward appearance of the corners of the mouth that can give you an unhappy appearance by using wrinkle reducers. And by treating the wrinkles, you can actually prevent them from developing into deep creases.
Loss of Volume in the Face and Facial Lines
As you get older, you start to lose volume in your face and the lines around the mouth tend to get deeper. Fillers such as Juvéderm®, Restylane®, and RADIESSE® are ideal for plumping up deep lines and adding volume to the face. Your provider will help you determine which filler will work best for you. Results are seen immediately and can last up to nine months. (The average patient uses two syringes for optimal results.)
Hormones
You need balanced hormones to live a healthy life. As you age, your hormone levels decline. With an imbalance of hormones come several symptoms. Women will experience hot flashes, mood swings, fatigue, weight gain, and decrease in libido, memory, and processing information. Men also experience a host of symptoms as they age and their hormones become imbalanced. This male version of menopause is called andropause. Men experience symptoms including chronic fatigue, energy loss, low sex drive, decrease in physical agility, memory loss, and weight gain. Replacing your hormones using the SottoPelle method that Allura uses can help you return your hormones to healthy levels and improve your life.
Our Best Advice
Rejuvenate your skin with a series of peels, FotoFacials, and/or fractional laser treatments.
Talk to Dr. de la Torre about your menopause symptoms to determine if bio-identical hormone replacement using pellets is the best choice for you.
Restore the volume of your skin using fillers.
Use wrinkle reducers to treat active lines on the forehead, eyes, and between the brows. In the long run, you will prevent the lines from getting deeper.
Keep your skin hydrated, especially during the summer, by having a hydrating facial at least once a month.
Review your skin care program and be sure to include:

Facial cleanser twice a day
TNS Essential Serum® or TNS Recovery Complex® twice a day
Vitamin C & E Complex for added antioxidant protection
Tri-Retinol Complex® 2-3 times a week at bedtime
TNS Eye Repair twice a day
TNS Dermal Repair twice a day
Wear sunblock 365 days a year